First of all let me answer the question that everyone asks....
NO you do not need to wait until you have 10,000 followers to start reaching out to brands. A lot of companies are looking more at engagement now rather than follower count. They are willingly to work with you based on your influence. Now with that being said there is a proper way to email a brand in regards to sponsorship. You do not want to just DM Anastasia Beverly Hills saying "hey i like your page. Can you add me to your pr list? thx."
---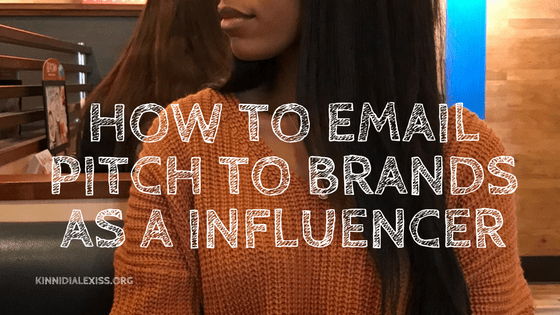 What should I do before emailing them?
Make sure your blog/ social media traffic + engagement is at least substantial + growing
If your traffic/engagement is really low or you are brand new to this, focus on gaining those numbers first.
Decide what exactly you are hoping to get out of this brand + what you can offer them
Are you just wanting free products? Are you wanting to be on their PR list for upcoming events and products? Do you want them to assist you with hosting a giveaway? Whatever it is .. just be clear in your email.
Create an amazing & professional media kit
You should always attach your media kit when emailing a brand. We will discuss media kits later in the course, don't fret.
How do I find the brand's email?
Use the contact form on their website to ask for the company's PR email address
The 'Email' button Instagram
Talk to their online chat support for the correct contact person(s)
Check their website for a link that says affiliate, bloggers, or models.
What do I say?
Be clear yet concise about who you are and what you are asking for
Send your DIRECT LINKS to your social media not @_____
Explain in 3 sentences or less what your blog/social media account(s) consist of
Keep this introductory email short, sweet and to the point. If they are interested you can go more in depth in follow up emails. Your first email shouldn't be more than 3 small paragraphs. I use the term paragraph loosely.
What do I do if they say no?
When a brand tells you no just send them a $15 gift card to Target because … who doesn't like Target. No, I'm just kidding.. please do not bribe people for product. If you are emailing numerous brands you will be told no eventually and that is OKAY. Keep in mind that brand's get a ton of emails daily from influencers who want to collaborate. Just continue to improve your blog (or social media) and grow your engagement. You'd be surprised but certain brands will keep an eye on your work and even reach out to you later to work together. Don't be discouraged when you get told no; just take their feedback (if any) and applaud yourself for putting your work out there.
What do I do if they say Yes?
Well after you finish dancing on your bed be sure to throughly read the email. Did they agree to what you asked for? Did they offer you a commission or rewards based affiliate account? Did they give you instructions or tasks to complete? Before agreeing to work with a brand be sure you can actually provide everything they are asking. For example, If you ask for free skincare & they want a video. You shouldn't agree if you do not own a camera or have experience with editing software. Always under promise and over achieve! You need to know that it okay to say "No, Thank you" to brands.
Don't forget to follow up!
After sending your email I'd wait about 7-14 days before sending a follow up email. They could've overlooked your email or just simply forgot to respond. You don't need to send another pitch, simply ask if they received your last email and if they would like to have a conversation about moving forward. This email is just to prompt a response. As of now, the longest a company has taken to respond to me was 7 MONTHS! I honestly forgot I even sent them an email. They responded with options for collaboration, so I'll let you guys know in another 7 months how that works out. Also, It's not a bad idea to send the company an email when you receive your product just to let them know and say thank you again. You should send an email once your post is live attached with the link. Doing so will raise your chances of being reposted on their platforms and grow your following.
Do you have tips or questions about PR emails? Feel free to comment or share in the Facebook group.